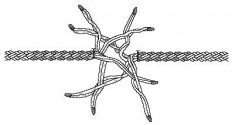 Fragments of (her) existence

De Vitrine
October 2nd
Amsterdam
www.nekrasaite.com
diary
Justina Nekrasaite (1987, vilnius, Lithuania) is a visual artist with a background in photography and media art.

Investigation of the relationship between the nostalgic individual and collective memory was at the heart of my artistic practice from its earliest stages. I am interest in deconstruction as a way of simulation and recreation of reminiscence. I often borrow materials, objects, stories from the past and recreate them into an increasingly individual dynamic between myself and audience. While using a variety of materials and media I try to keep my methodology in minimal aesthetics.
Besides working on a memory issue I keep my artistic practice wide open with a sensitive approach to the experiences in everyday life.